With POD, firms work with a white-label dropshipping service provider to create customized products with their designs, or use pre-designed products. After you have selected the design, sit back and relax as the POD service provider will ship products to your customers under your brand name. You don't have to pay for the product until it reaches the customer. You get freedom from holding any inventory, thus saving your cost and time.
What can be better than POD? When the service provider handles everything from printing to shipping, what more could you ask for? After you have set everything up, it will only take a few clicks to convert your order into a sale.
Let's talk about the general steps involved in running a print-on-demand store.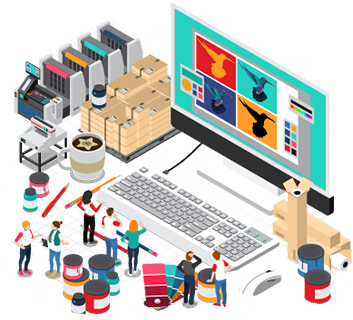 First Set Up Your Online Store
Want your print-on-demand drop shipping business to reach the pinnacle of success? The first step is to set up your online store. There are two ways to do so:
Integrate:
you can integrate the existing store with a POD service, like Print Genie.
POD sites or marketplace:
if you don't have an e-commerce site, fret not! Choose a POD service with an existing marketplace. Various platforms allow you to sell and fulfill products on your behalf.
Upload Your Designs Or Use Existing Designs
After you have selected a POD service, stock your store with different designs and products. Print Genie allows you to choose from hundreds of items like apparel, hats and coffee mugs to household items. Choose from a given design or showcase your creativity by customizing products with your unique designs.
Learn The Art Of Marketing And Selling
After you have uploaded your products, start marketing them to drive traffic to your online store. The idea is to enhance your store's visibility and entice customers to buy from you. With a POD service provider like Print Genie, you don't have to worry about shipping once customers place their order. The service provider will ship the products directly to customers under your brand name. After the products, like print-on-demand custom t-shirts, are delivered, you will get your payment.